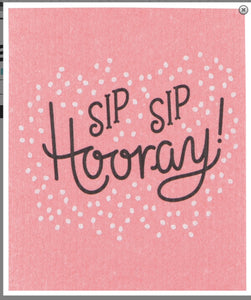 Swedish Dish Cloth Sip Sip Hooray
Made from cotton and plant-based cellulose fibres, this compostable cloth is an established must-have in Scandinavia. It offers a sustainable alternative to sponges, dishcloths and paper towels and becomes soft and pliable when wet for easy clean-up.
Dishwasher or Washmachine safe.  Cleans for 6+ months.  Replaces 40+ rolls of paper towel! When you're finished with it throw it in the compost! 

70% cellulose 30% cotton
W6.5 x L8 inch
Made in Sweden