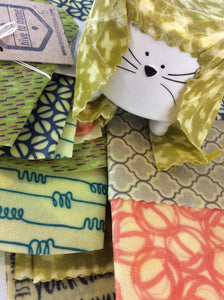 Beeswax Food Wraps
Made by Chelsea in Lower Sackville, Nova Scotia, Hive to Home creates beeswax food wraps as a sustainable, renewable, and friendly alternative to plastic.
Sold in a convenient set of 3 - choose from round or square!
Care:
Safe for the fridge or left out (avoid direct sunlight / direct heat/ raw meat. Heat can pull the wax off the wrap).
Rinse with room temp/ cold water.
Use:
If you're going to use the warmth of your hands to form them around food, scrunching them up first helps.
Don't be shy about crumpling them! Some people prefer to fold them around food and use the string the hold the wrap in place. I like to crumble mine right after I make them and then use the warmth of my hands to form them every time.
When the wax on the wrap has become tired or worn off, the wrap can be rewaxed or used as a reusable cotton kitchen wipe.