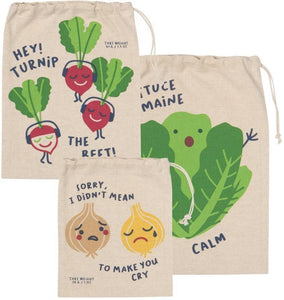 Produce bag set of 3- Funny
This reusable set of cotton produce bags is not only great for the environment and your wallet, they also are tremendously fashionable as they feature vegetables cracking jokes patterns. The bags guarantee correct weighing at checkout and the different sizes allow you to shop for a wide variety of your favourite fruits and vegetables!
100% unbleached cotton
Bag weight printed on bag
Great for produce or bulk food shopping
8.5" x 10.5"
10.25" x 13"
12.15" x 16"