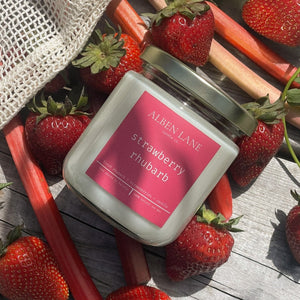 Strawberry Rhubarb Alben Lane Candle
Founded in 2020 by two best friends with a love of candles and a lot of free time, Alben Lane candles are hand-poured in Halifax, Nova Scotia, using 100% soy wax for a fresh and safe burn. Each scent is inspired by a memory from experiences and moments from the East Coast of Canada.
​Their goal was to create candles that were sustainably made, and that embrace life in Nova Scotia. Once you've experienced it, it's hard not to fall in love, and this sentiment is reflected in each scent. We've added some hints of inspiration from events, travels, people, and memories in our lives after growing up and living here for over 20 years.