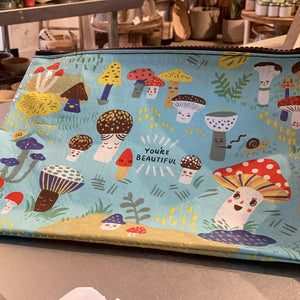 You're Beautiful Recycled Zipper Pouch
Cute Lil' Mushrooms Zipper Pouch: You're beautiful. Don't change!

Very Best Quality: This Blue Q Zipper Pouch is strong, sturdy, and built to last. Corral the clutter! This is the ultimate bag to organize your bigger bag. Stow your makeup, pencils, checkbook, receipts, travel docs, and more. It's chunky zipper and rugged material make it perfect for years of service.

Not Your Ordinary Bag: Drenched in Blue Q art & wit, this bag is woven from 95% recycled plastic. Easy-to-wipe-clean too!