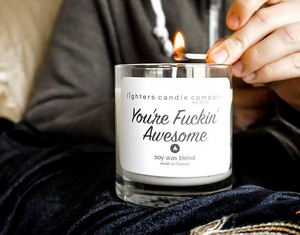 You're Fuckin Awesome - Bayberry + Cinnamon
Our hand-poured soy candles are made with all-natural soy wax and come in beautifully recycled whiskey glasses. The size is 3 1/2" in tall, 3 1/4" in diameter, weigh 1.1 pounds and have an approx. burn time of 55-65 hours.
Soy was has memory. In order to get the most out of your candle, please allow the first burn to reach the edge of the glass. Give it approximately 4 hours and you will set the was memory for every burn there after.